With recent changes to IHG's loyalty program, many more customers have access to Club Lounges. Could we see the hotel being creative in order to avoid this, however? The actions of a hotel suggest so…
Challenges with IHG's new elite benefits
The IHG One Rewards program was recently overhauled and elite benefits are much greater than before. In addition to the general benefits of IHG One Rewards Platinum and IHG One Rewards Diamond, we also saw the introduction of IHG One Rewards Milestone Rewards, which offers benefits such as club lounge access, upgrades from confirmed, etc.
These changes are of course great news for frequent customers, as they will be rewarded much more generously than before. However, this also presents a challenge for hotels when it comes to delivering on these promises.
Take access to the Club Lounge, for example. Any IHG One Rewards member who earns 40 Elite Nights in a year can choose to receive Club Lounge access for all of their stays. By comparison, previously only InterContinental Royal Ambassador members had access to the lounge, and this was an exclusive, invitation-only, elite status.
I think it's safe to say that the number of guests potentially eligible for lounge access at InterContinentals is increasing significantly with the new program. This becomes a challenge for hotels on several levels:
Hotels design club lounges based on expected occupancy, and many InterContinental club lounges simply don't have the capacity to handle the influx of guests we're going to see
There's no denying that when club lounges move from profit centers to cost centers, the experience becomes much worse; just compare the Ritz-Carlton club lounges (which elite members do not have access to) to just about every other club lounge you can access based on elite status
So how do hotels strike the right balance? I'm not sure there's a perfect answer, but perhaps one hotel's actions present a roadmap of what we might see in other hotels as well…
InterContinental renames club lounge to avoid elite access
A FlyerTalk thread covers discussions taking place in a frequent flyer forum in China, about what's going on at the InterContinental Changsha. The hotel used to have a standard club lounge. However, with the introduction of the new IHG One Rewards program, the hotel has made some changes:
Club InterContinental has been replaced with "Jade on 27", which is basically the same thing with a different name; it's described as an "all-inclusive food and drink spot"
Jade on 27 is only available to guests paying specifically for a room that includes access to it
Meanwhile, Club InterContinental guests are directed to a special lobby lounge area, which allegedly only offers light snacks and non-alcoholic beverages, so this is a significantly reduced offering.
It is claimed that IHG customer service has made it clear that this is within the terms and conditions, since access to some sort of lounge is still offered to eligible customers.
On the one hand, it's ridiculous and not in the spirit of IHG's loyalty program. On the other hand, if the club lounge actually became busy to the point that it was overcrowded and took away from the usual experience, what should the hotel do? Not only does this increase the cost of operating the salon, but it also potentially decreases revenue, as the salon's paying patrons may no longer be in it if it's not a relaxation space.
This appears to be the only hotel where this has been done so far, although I wouldn't be surprised to see this spread.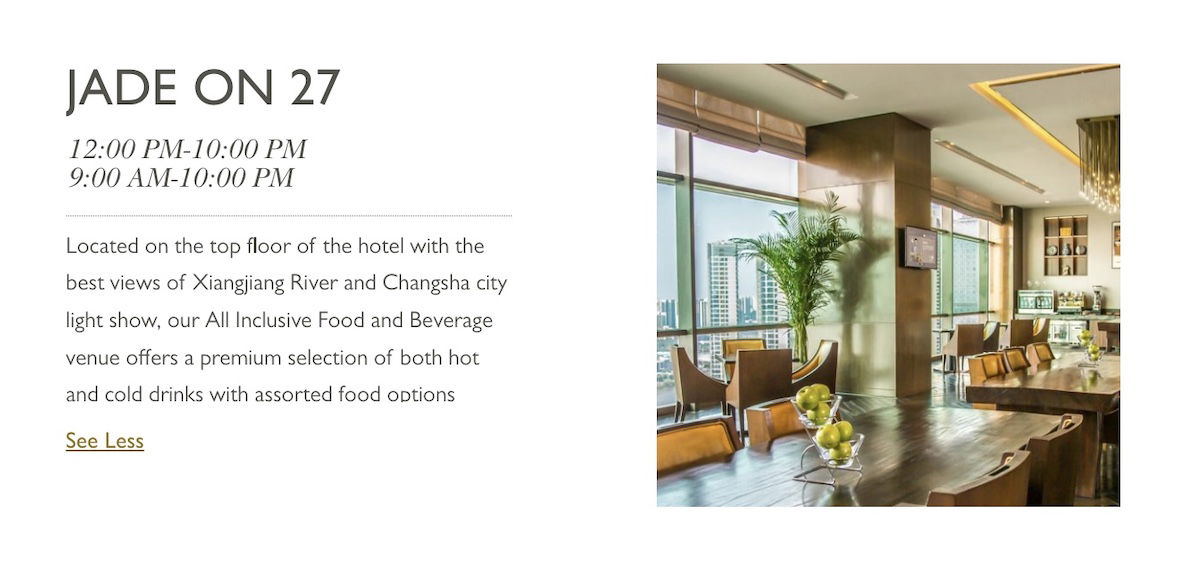 At the end of the line
IHG has significantly improved elite benefits, including a new easy path to club lounges. This is great for customers, but a challenge for hotels, as they will see an influx of customers who are eligible for access.
It looks like at least one hotel is tackling this issue by renaming their club lounge and only offering access to paying guests. Meanwhile, other guests can get a much more limited food and drink selection from the lobby lounge.
I'm curious to see if this practice spreads and how IHG hotels are doing in general with the execution of IHG's new elite benefits.
Do you think we'll see more InterContinental properties take a similar approach?