If you are looking for a simple workout app, then Nike Run Club might be the perfect fit. Although it's not as flashy as some of its competitors, it does all the basics. Training plans, race tracking, and social leaderboards are all included. There's no cost involved either – no hidden subscriptions or premium membership tiers.
You are also spoiled for choice when it comes to guided runs. We rate it as one of best running apps available, but it doesn't quite take the top spot on our list – partly because it lacks the deep features of competitors such as Strava. It's also a bit glitchy, sometimes failing to register distances. Here's what we did with the app, after using it for several months.
Nike Run Club review: Features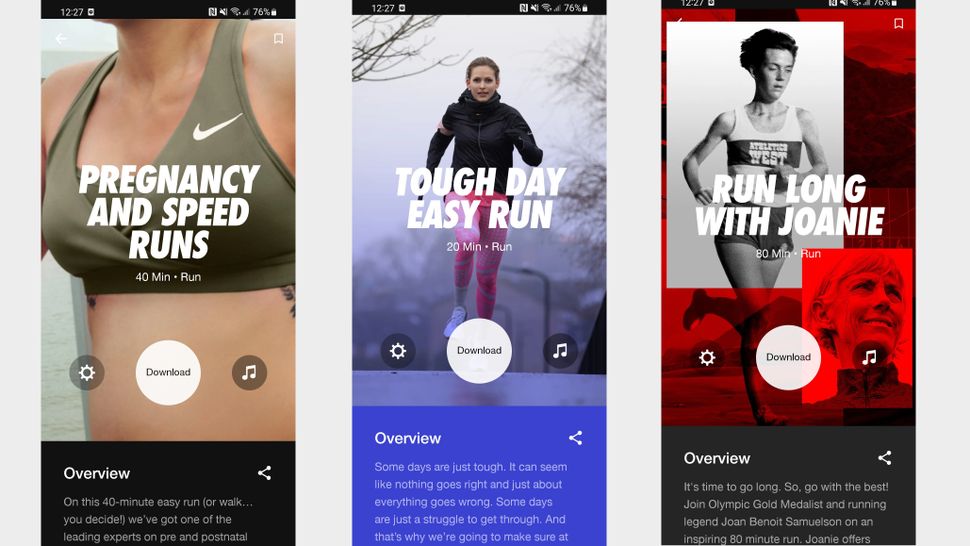 Guided runs are the real standout feature of the Nike Run Club app. These work like podcasts, so just turn them on at the start of your run and a narrator will speak to you throughout your session.
Many other apps also offer this type of content, but Nike does it particularly well. There are guides on how to run in hot weather, or you log on to "mindful" runs that will encourage you to relax while you jog. Alternatively, you can challenge yourself with intense interval training.
You'll also find a handful of detailed training plans, which can train you up to half marathon distance.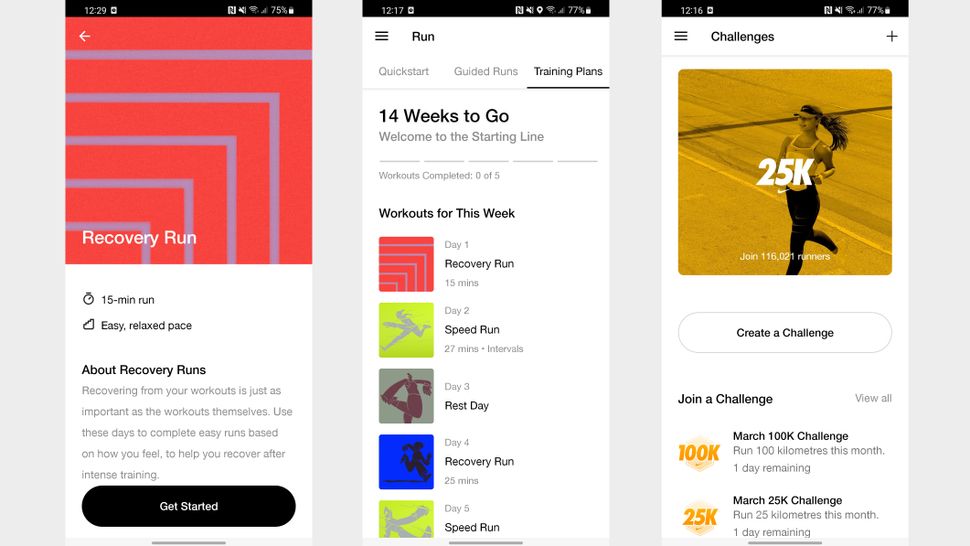 The breadth and depth of this free content seems generous, especially considering that Strava now hides this stuff behind a paywall. Sometimes some of the storytelling gets corny, but we found the upbeat race coaches to be a solid source of encouragement.
Other than that, many features of the Nike Run app are pretty basic. You can set a running goal, monitor your speed, and track your distance. You'll also find your past logged runs in the activity section, with each session divided into 1km time fractions. Altitude is recorded, along with your heart rate if you're connected to a compatible activity tracker.
There are some nice extras built into the tracking process. If you stop running at any time, the app will detect it and automatically pause the recording. A handy assistant will also show you your progress as you complete each kilometer.
Unfortunately, there's no suggested route feature on the app, so you can't drop a pin somewhere and have the app guide you to it. And the social features are also quite limited.
We also had a few issues where the app failed to register that we were running, which is a shame because otherwise the GPS tracking was mostly fine. Other users report similar issues on Google Play – and some mention that the app failed to save their data after a run ended. If that happens, you can manually log your distance and time, but that doesn't seem as satisfying.
Nike Run Club review: Interface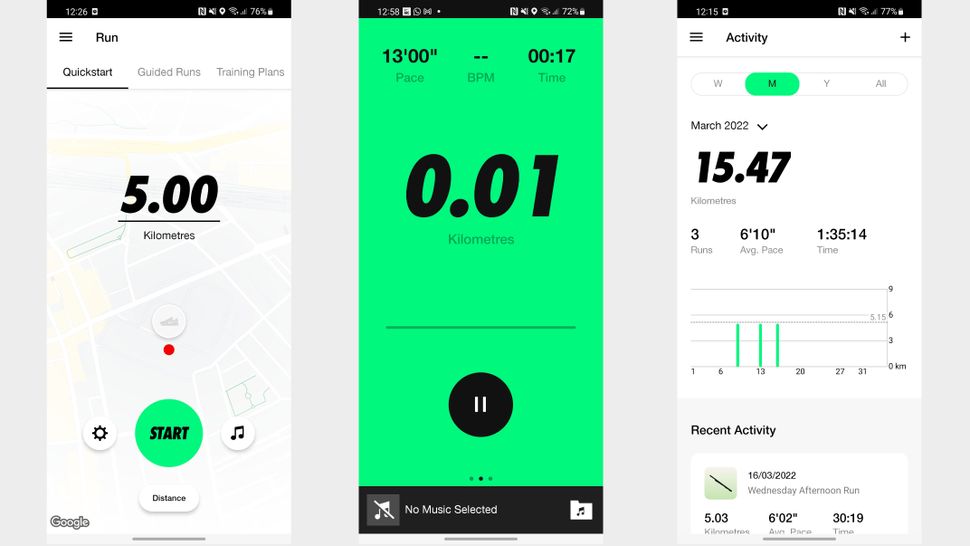 It's really easy to navigate the app. To get the ball rolling, all you have to do is open the quick start screen, enter your goal (in time or distance) and get started. It's also easy to scroll through your recorded data and view your average times. When you hit a Personal Best or complete certain Nike Challenges, you'll find special badges applied to your saved runs.
We really like that the app shows your rolling speed and distance, even on a lock screen. Other apps we've tested (like Zombies, Run!) only show these metrics on an unlocked device, so you can't look at your screen to check your progress. It's a small touch but makes a big difference if you keep an eye on your speed on the move.
You can also add lots of details to your recorded runs. Once your session is over, you can note where you ran (roads, trails or track), your perceived effort during the run, and the shoes you were wearing as well.
Shoe tracking is a handy little extra that's hidden in the app. You can log the distance you have traveled in a certain pair, which is a good way to track usage. You can even have the app notify you when you've walked a certain distance in the shoes, giving you a nudge to buy a new pair if needed.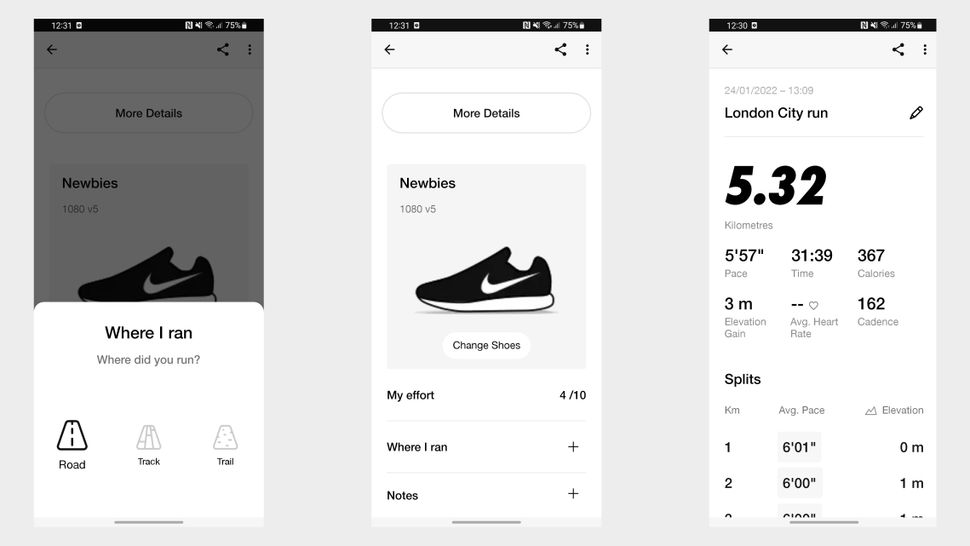 Nike Run Club review: Smartwatch apps
You can find a dedicated Nike Run Club app on Apple Watches and Google Wear OS devices. This means that any data saved on your watch should also be stored in the Nike Run Club app. You can also pair the app with Garmin, Polar, TomTom and Wahoo devices, which will allow you to get your heart rate data during a run.
If you're using a Fitbit, however, you're out of luck here, as you won't be able to make your portable game enjoyable with the app.
Nike Run Club Review: Social
The social side of the app feels a bit like an afterthought. You can add friends and family members who use the app and then compete with them for leaderboard titles. You can also create challenges and ask your friends to compete for the best times or distances.
That's fine, but unless your friends are as passionate about running as you are, it can be difficult to build up much of a social network. It's certainly not as well thought out as the Strava design, where you can compete against other people in your neighborhood for the fastest time on a particular stretch of road.
If you open the club section of the app, you'll find a leaderboard (for your friends) and an events page that shows local racing events happening near you. We did however try this for London and only found one race scheduled for the month.
Nike Run Club review: Verdict
This is a well-designed running app with all the guided runs you might need. Sure, it might not be as flashy as Strava, but if you just want something to accurately track your miles, it's a great choice.
Small features (like auto-pause in working mode) show that extra care has gone into the design of this app – and the regularly updated audio content keeps things fresh.
There are occasional glitches, but these are usually resolved with a quick reboot. You'll also find, unfortunately, that the social side of things seems pretty basic.